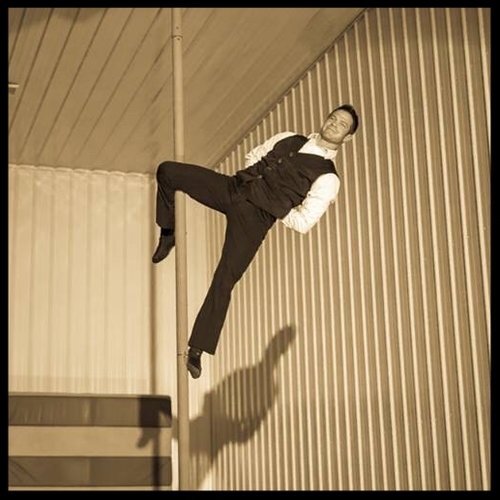 A professional acrobat, competitive diver and actor, Clint Bobzien's formal training began on stage at the University of Evansville's theater program. He has performed nationally, internationally and on broadway as a principle artist featuring a variety of acts such as high flying trapeze, trampoline, chinese pole, high dive, aerial hoop, aerial silk, hand to hand balancing and corde lisse. Clint has been a USAG certified gymnastics coach directing competitive programs with 15 years experience and holds a BS in Biology from Indiana University.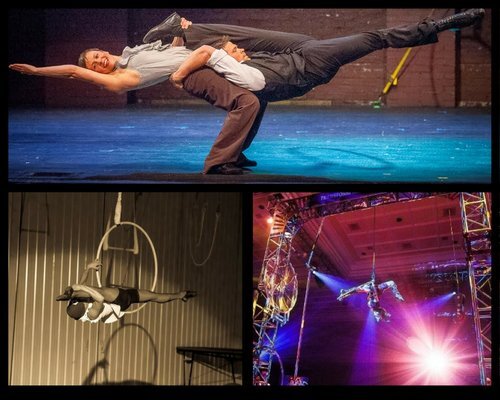 Hannah Bobzien has been flying through the air since she was a child. By the age of 10, she was performing with the High Flyers Circus on the flying trapeze, trampoline, on stilts and a variety of aerial apparatuses. In school, she set records for both diving and gymnastics in the state of Indiana. Hannah had already performed internationally by 18, including an eight month Japan tour. She and her husband, Clint Bobzien, performed 6 months on a cruise ship in Asia. Later with Cirque Mechanics she toured for 5 years throughout the United States and Canada, including a three week stint on Broadway. She graduated from Indiana University with a BA in English. As a performer and choreographer, Hannah Bobzien has solid presence on stage and teaches her students to develop strength and unique abilities.
Fifteen years of power yoga were the perfect prelude to aerials for Laura, who eagerly launched her strength and flexibility off of the yoga mat and into the air. She has trained, taught, and performed from coast to coast, from L.A. to Philadelphia.
Laura loves to share the thrill of flying and builds her classes around flow and endurance. One of her passions is synthesizing vinyasa flow, power yoga, and silks into a seamless, high-intensity workout. She dares you to try it!
Shelby began her aerial journey on our silks in late 2016. Her love for all things beauty took her to cosmetology school, but her love for movement drove her to a different career path. Her goals in life are to run away with the circus, and to help people find their own appreciation for all kinds of movement.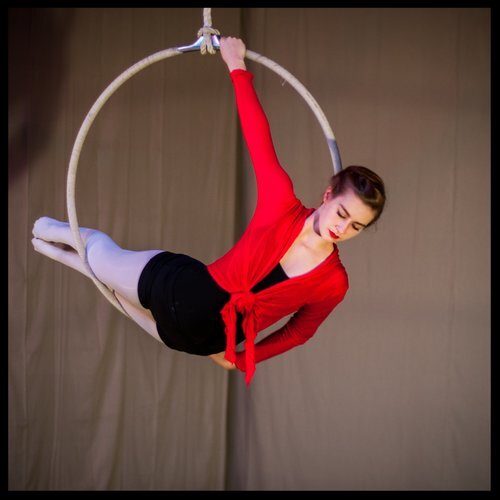 Grace appeared in her first Indiana University opera at age nine and has been performing ever since. She has been with Stage Flight since it opened in 2015. As a member of the original Advanced Program at Stage Flight, Grace is trained in trampoline, tumbling, aerial hoop, aerial silks, and dance. Stage Flight allows Grace to combine her stage experience and gymnastics background providing her with new opportunities to push herself. In her free time Grace enjoys reading, playing cello, and working with young children.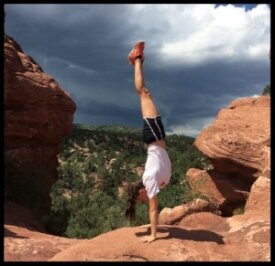 An aspiring professional, Katie Russo's training began in Philadelphia at the Philadelphia School of Circus Arts. She has performed across the United States with Phantom Regiment and Onyx featuring a variety of disciplines such as euphonium, dance, and flag. She has been with Stage Flight for 2 years training as a generalist and enjoys trampoline, aerial straps, and cyr wheel. Katie plays trombone at the Jacobs School of Music and is completing a degree in Music Education. She loves her twin sister and Harry Potter.
Maggie loves the Earth dearly, but she discovered her love for being in the air in 2015. She's very passionate about growing her own food and composting. If she's not busy helping our planet, she's upside down! She spends her free time practicing handstands, doing aerial silks or aerial hoop, and conditioning.
Arianne discovered her love for aerials in 2012, as a freshman in high school. Dedicated to her education, she took a break, and came back to aerial silks and aerial hoop in 2016. Her desire for adventure brought her into the air, has taken her around the world, and sparked a deep love for philosophy and journalism! She also holds our record for most chocolate milk poured onto one head, at one whole gallon.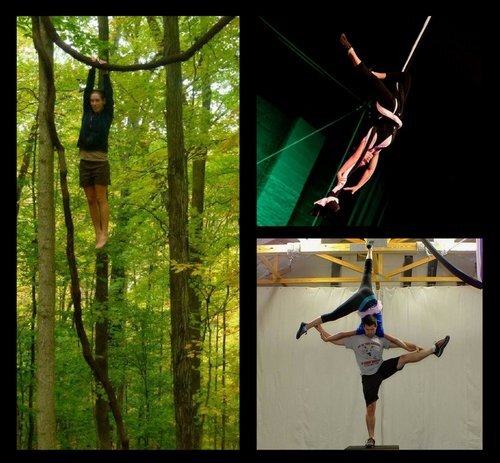 Siri began training on the high flying trapeze in 2008 with the High Flyers Family Circus. With experience in gymnastics, rugby, and hand balancing, trapeze presented a whole new way to push her physical boundaries and gain strength while flying through the air. Since then she has continued her aerial training in multiple apparatuses including aerial hoop, single trapeze and aerial silks. She is a mother and loves working with students of all ages.
Sue Rall took her first aerial class as a birthday present to herself in 2011 and never looked back. With a background in musical theatre and costume design, Sue has created aerial and cabaret acts that have been featured internationally, in several music videos, and headlined in shows all over the midwest.
She has been teaching aerial arts locally for the last 6 years and loves seeing the light go on in a new student's face when their feet leave the ground for the first time.